Tina Craciun on
Young cancer survivor spreads hope to others
Young cancer survivor spreads hope to others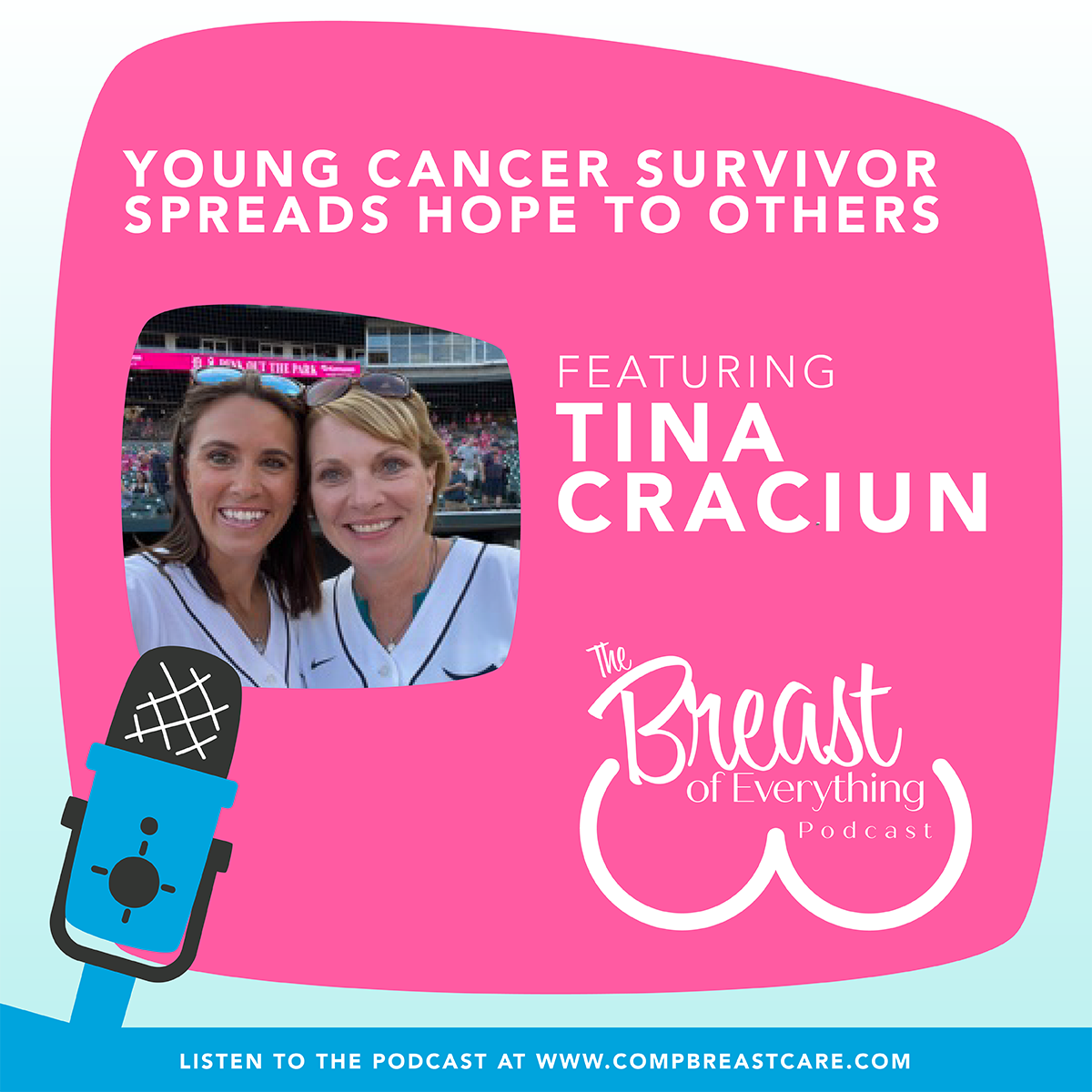 Tina Craciun, a 46-year-old wife, mother of two, and speech pathologist, recently added breast cancer survivor to her list of "accomplishments," and gladly will share her story in hopes it will help other women who are just beginning their uphill battle with the disease.
"You will reach the top of that mountain, and the other side is so full of hope and relief," she says during The Breast of Everything podcast.
Comprehensive Breast Care Surgeon Ashley Richardson, DO, FACOS, the podcast host and Tina's surgeon, spoke with Tina about her cancer journey that began in November 2019.
It started when Tina went for her annual exam with her OB/GYN who found a small lump in Tina's right breast. He referred her for an MRI but when she called to schedule it, it was going to "take quite some time" before she could get in. Tina didn't want to wait so she called Dr. Richardson, and a new plan was put in motion that included a mammogram and an ultrasound with a little less waiting time.
The screenings took longer than usual, Tina recalls as if it happened yesterday. "The tech had to take more images … I knew something was wrong."
The results revealed an abnormal lesion that required a biopsy. Tina practically begged for the procedure to take place that day, and the medical team was able to make that happen for her.
When Dr. Richardson broke the news to Tina that she had triple negative breast cancer, so many concerns immediately bounced around in her head … "I have young, active kids … I have a job and a husband … what do I do now?"
But the first thought that came out of her mouth as she was listening to Dr. Richardson – one that the surgeon can still quote verbatim today – was, "I don't have time for this right now!"
Tina is a planner, and how can someone plan for life with cancer? She was heading into the unknown without a plan. But Dr. Richardson, knowing Tina and what she needed to navigate this uphill battle successfully, had a plan, and wrote it all out for the anxious and worried wife and mother. The two women sat down and went through the plan together. "There were a lot of tears," Tina admits. "I still didn't know how I was going to manage my treatment, my kids and my job. I felt like I had lost control of my life."
Dr. Richardson assured Tina that she still remained in control of her life and, armed with a plan and the support of Dr. Richardson and the rest of the medical team, as well as her family, friends and co-workers, Tina would climb that long, high mountain and get to the other side.
"I just took it one day at a time and looked for support along the way," Tina says. "I stopped thinking, 'why is this happening to me,' and started saying, 'I will make it through this.'"
First was chemotherapy, then surgery, and then radiation. Through every step, Tina kept her normal routine in place as much as possible. She got up every morning – even on the days when she was struggling – got the kids ready for school, went to work, cheered in the stands at the soccer games, and "became a beacon of hope for women going through a similar journey," Dr. Richardson announces.
Today, almost two years after her diagnosis, Tina still sheds tears, but this time, they are tears of hope. She was chosen to throw the first pitch at Comerica Park for its annual Pink Out the Park night, supporting breast cancer survivors, and her catcher was Dr. Richardson.
Her kids are busier than ever with their activities, Tina continues her responsibilities as a speech pathologist, and she is pleased to report that her energy level is back, the effects of chemotherapy are almost completely gone, and so are her aches and pains.
"My hair has grown back, and I feel comfortable going out in public without worrying about how my hair looks. I listened to The Breast of Everything podcast about a breast cancer survivor who teaches Pilates, I reached out to her, and I recently started taking her classes," Tina is happy to announce.
Asked if she worries about a cancer recurrence, Tina responds quickly with a "yes." Every time I pull into the parking lot for my mammogram, all those thoughts surface again, but this is part of my life story now. I climbed the mountain and got to the other side. You will, too," she says to other women just beginning their journey.