The Role of a Breast Care Navigator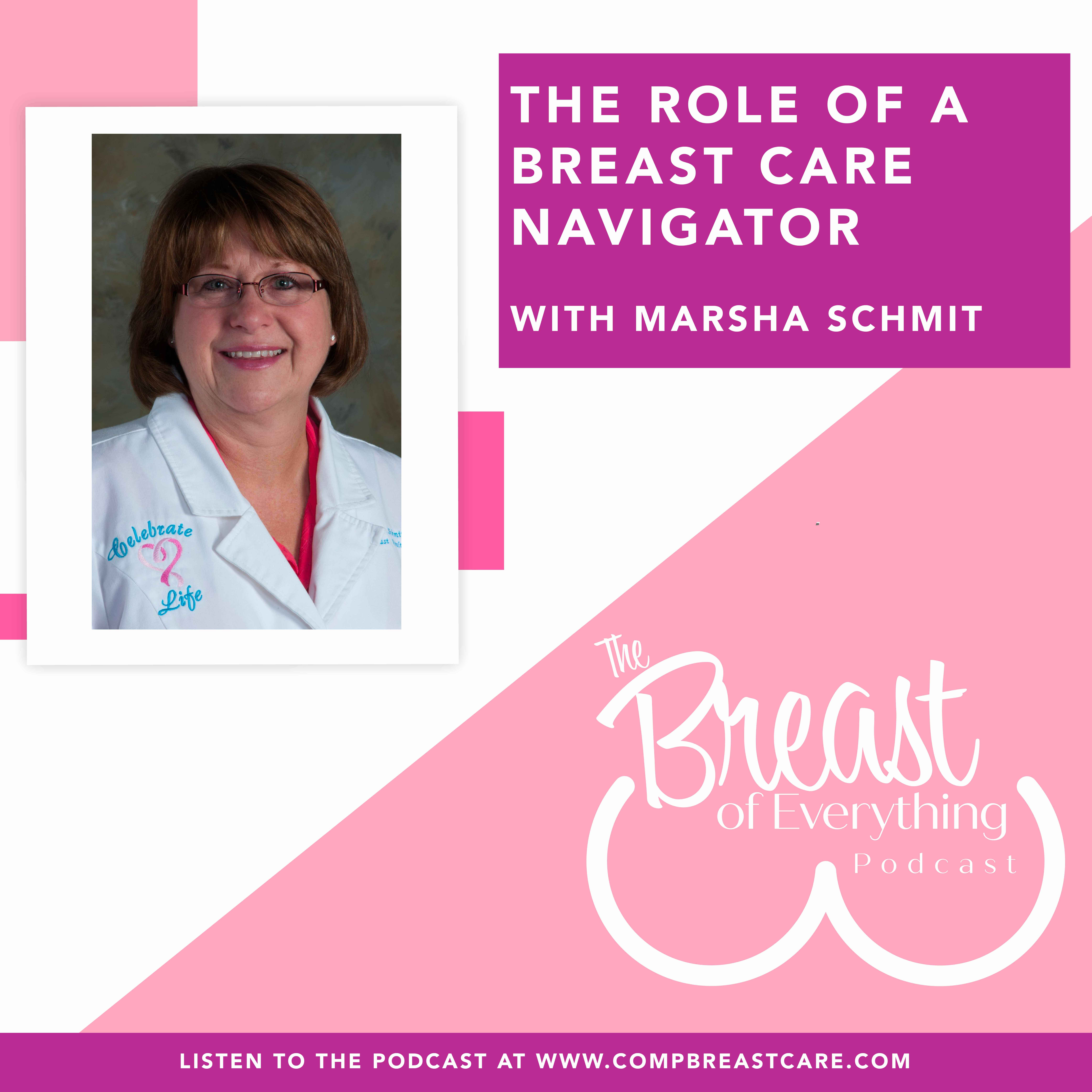 When a woman finds out she has breast cancer, in many cases she needs someone to "hold her hand" through this unanticipated and frightening journey into the unknown. Women face a confusing maze of questions and often become overwhelmed very quickly. As physicians, we do our best to provide as much support and information as possible, but often we rely on a breast cancer navigator to fill in the gap for us to make sure patients have the resources they need throughout their entire cancer journey. A breast cancer navigator literally helps patients navigate the seemingly endless barrage of medical appointments, tests and treatments. They provide an invaluable service for breast cancer patients.
During The Breast of Everything podcast, Marsha Schmit, RN, breast care navigator at Hurley Medical Center in Flint, Michigan, talks about the role of a breast care navigator and the services she offers patients. She knows from experience what it is like to navigate a breast cancer journey. Marsha is a 12-year breast cancer survivor.
As a breast care navigator, Marsha guides patients through their entire journey – from diagnosis, surgery and treatment, to life after treatment. She educates, advocates, provides resources and support, helps with financial and insurance-related problems, resolves issues and removes obstacles patients face along the way – from understanding their diagnosis, to telling family members about their illness, answering questions about insurance coverage, or finding the right post op bra.
She is an integral part of the cancer team. And she is a friend. Often, patients need someone to lean on; Marsha is that person; or they need a safe outlet from the confusion and turmoil cancer can bring; Marsha serves in that role, too. She listens to a patient's struggles, she helps them effectively communicate with other members of their healthcare team, and she identifies barriers to a patient's care and helps bypass these obstacles so the treatment process can continue seamlessly.
Many women have to stop working during treatment and have no source of income, Marsha finds. These financial stressors can take an emotional as well as physical toll on patients. A breast care navigator will provide a financial assessment before treatment begins to determine how to help patients through the tough times. Through fundraising activities she spearheads, Marsha established a patient fund to alleviate those concerns so patients can focus on getting healthy, not on how they are going to pay their electric bill next month.
Don't let not having insurance be a stopping point for you, Marsha asserts, and do not let fear immobilize you.
Once a patient completes treatment, the work of a breast care navigator is not over. She helps patients through the post-treatment phase that can include depression, fear of recurrence, nutritional needs, sexuality, exercise, pain, and trying to resume a normal life.
Her goal, she describes, is to navigate patients to their level of wellness. In some cases, that level of wellness may be end-of-life decisions. Marsha will help with the closure process, offering advance care planning and end-of-life decision-making, guiding patients and their families every step of the way. She works with patients to help them choose the best way to live their final days.
Studies have shown that patients with navigators say they have a higher quality of life, feel more empowered and feel they have fewer problems throughout their cancer treatment.
Breast cancer navigation services are free.
To listen to The Breast of Everything podcast featuring Breast Care Navigator Marsha Schmit, click this link: https://www.compbreastcare.com/blog/marsha-schmit-the-role-of-a-breast-care-navigator/