Darren and Jen Delvaux on
Love and marriage – surviving in sickness and in health
Pay attention to the subtle signs and changes in your body. Who knows it better than you!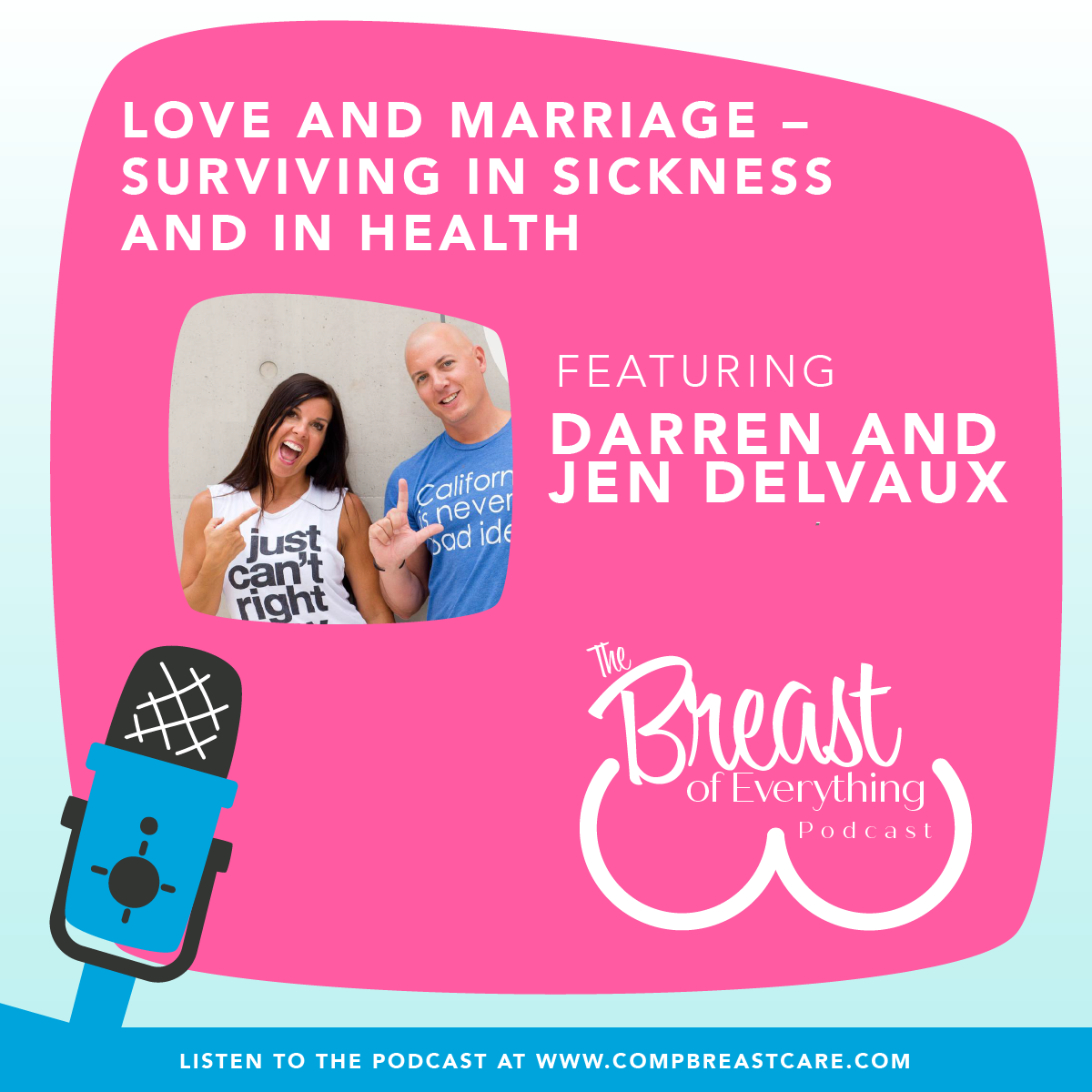 Pay attention to the subtle signs and changes in your body. Who knows it better than you! Darren and Jen Delvaux – Mr. Worldwide and His Bride – deliver this message to others almost every day. They know firsthand the importance of listening to your body. That's how they each found out they had cancer.
During The Breast of Everything podcast, Darren and Jen share their cancer journey story. At age 36, Darren was diagnosed with brain cancer and, several years later, Jen (in her early 40s) learned she had breast cancer.
Darren went to see his doctor after he was writing an email and struggling to spell words correctly. He told him, "I think I have brain cancer," and Darren was right. Within a week, he was having surgery.
It came out of nowhere, Jen says. "It hit us so fast. It wasn't even on our radar.
"When cancer comes into a marriage, it really alters your life," she finds. That is one of the reasons why Darren and Jen started their own podcast entitled, "Mr. Worldwide and His Bride" – so they can talk with others about their journey, what they have learned along the way and how it affected their marriage – so they can help and inspire others going through similar experiences.
Jen and Darren's relationship changed quickly from husband and wife to patient and caregiver, and then it took another turn to child and parent when Darren had a stroke after his second surgery years later. His cancer returned. Once again, Darren's prediction was right. He had lost control of his arm movements and suspected the cancer had returned and it had.
After his stroke, Darren had to relearn many basic skills and Jen became the parent, teaching him. "I remember he got into an elevator and didn't know what to do," she says.
Darren and Jen talked very openly and honestly about the major detours their life – and their marriage – had taken. In their pursuit of a return to normal – which many couples do not do – Jen emphasizes – they started therapy. They started dating again, and today, they still schedule date nights.
And then, the next curve ball came their way … Jen was diagnosed with breast cancer. "I kept seeing the numbers 1111 multiple times a day for several weeks. Someone was trying to tell me something." She had the revelation that maybe she needed a mammogram and scheduled one. Unlike Darren who suspected he had cancer, Jen never considered it.
"I kept thinking, 'no way; there is no way we both would get cancer." Even after repeat mammograms and an ultrasound, Jen still didn't believe it would be true.
"I was so scared, and I went into total panic mode," she recalls. "I can't have cancer; I have a husband with brain cancer, and I need to be here," the caregiver in Jen surfaced again.
"As women, we always take on all of the responsibilities and we need to put ourselves first," urges Ashley Richardson, DO, FACOS, host of the podcast. "This is very hard to do because we've been the caregiver our entire life."
And for Jen, this was a near impossibility. "I didn't want any help, I didn't want any sympathy, I didn't want any 'poor Jenny" moments. I am not good at accepting help," but eventually, she hit a wall, and had to give up some control. Darren now became Jen's caregiver, and he was "amazing," Jen describes.
"I remember slowing down and giving myself grace to not do it all. It was really hard."
If the couple could give one piece of advice to others in a similar situation it would be to have an open and honest conversation about everything.
"We sat together one night and just talked; there was laughter, tears and so much emotion. It was the most impactful night of our lives," Darren announces.
"I remember telling Darren I was worried I wasn't feeling sexy anymore; we talked about how I wanted to feel good again in my own skin and he understood."
"Don't keep your partner guessing," urges Dr. Richardson. "It is important to talk about some of those uncomfortable things.
"Don't let the disease define you!" she announces.
Darren and Jen also remind others: slow down, start caring for you, eat right, meditate, practice mindfulness. These will give you peace and release some of the fear cancer can cause. And, most importantly, it gives you some control when you feel you have no control.
"Be the champion of your journey and believe in yourself."